GUPD Sexual Assault Response Team
What is the Sexual Assault Response Team (SART)?
The Sexual Assault Response Team (SART) is a team of specially trained Police Officers within the Georgetown University Police Department (GUPD). These officers work together with the common goal of providing a community coordinated response to reports of sexual assault. Working in coordination with University partners, SART strives to respond to survivors with professionalism, compassion, and empathy, while providing both on-campus and off-campus resources and ensuring that each survivor gains a solid understanding of all options moving forward and is fully supported throughout their process.
Contact A SART Officer
Email: SART@georgetown.edu. Please note that email is not monitored in real time, if this is an emergency please call the Georgetown University Police number listed below.
Phone: 202-687-4343. When calling ask to be connected to Officer Floyd.
Essential Services that a SART Officer Can Assist With
No-Contact Orders – banning contact between two members of Georgetown University
Barring Notices – banning an individual from Georgetown University, when appropriate
Guidance on how to Obtain Protection Orders; GUPD may not issue protection orders as they are issued by a judge via the Domestic Violence Intake Centers. Survivors who wish to seek a protective order should consider taking steps to preserve evidence, as it may be necessary to establish the proof of criminal domestic violence, dating violence, sexual assault, or stalking.
Who We Are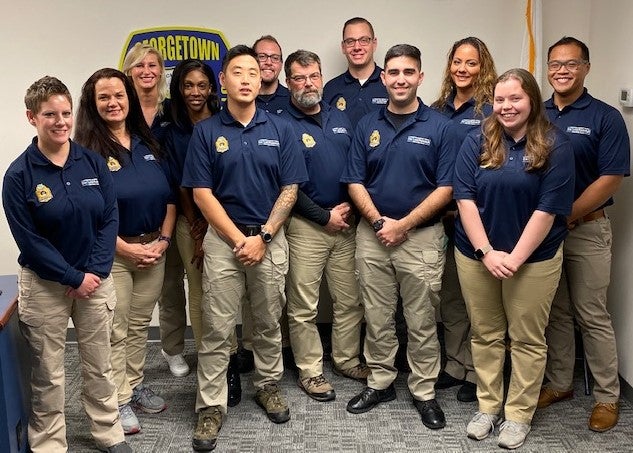 ---
Officer Floyd (Interim SART Coordinator)
Hey there, I'm Officer Dylan Floyd, I am originally from California and I have been in law enforcement for the past three years. I grew up with a huge law enforcement family, so I have personally and professionally seen the good and the bad of policing. I chomped at the bit to get into law enforcement as the only female in my family to do so and as an only child. I wanted to bring my effervescent and caring character to the table. I had a huge legacy to live up to and I'm doing it! This is my chance to blaze a new trail for other strong women along the way. I moved to DC at the age of 19 to begin my MS in Terrorism and Homeland Security from American University. I graduated and decided I'd also enlighten my passion for teaching and earned my teaching certificate. I am a jack of many trades and always want to learn more. I hope to be of assistance in any way, shape, or form. To the community of which I serve, I promise to put my best foot forward each day but I am not perfect and I am only human.
This job, this badge, does not give us super powers, (as much as we want to be super-heroes) we bleed, we have our own feelings, and we surely make mistakes. I strive to protect, educate, enforce, and serve our wonderful Georgetown Community. Whether it is with protecting you in your darkest hour, lending a helping hand carrying books, opening a door, or listening with an open mind to your concerns. Being a police officer isn't just about enforcing the laws and policy, it is about using the reasonableness and integrity in doing so and then doing the job right and with compassion. I do not believe in clocking in and clocking out and going home, I want to leave a positive and lasting effect on those I come into contact with.
Officer Clark (Assistant SART Coordinator)
Hi, my name is Officer Janelle Clark. I have been with the Georgetown University Police Department for 3 years. I became a member of SART almost immediately upon starting with the department and am very passionate about the work that we do. I work a varied schedule, but am here primarily during the day and evening hours. I am originally from Pennsylvania and moved to DC to attend American University, where I obtained my MS in Justice, Law, and Society.
Officer Shea
Hi My name is Officer James Shea, I have been working with Georgetown University Police Department for over a year. I am a recently separated US Marine Veteran and a Student at Georgetown University School of Continuing Studies. I commute to work on my bicycle and practicing Judo at Yates Field House. My wife and I have a cat named Zuzu who is the cutest ever! Pictures upon request.
Sexual violence can affect many aspects of a survivor's life, including safety and health, family and work situations, and finances. These challenges often lead to perplexing personal and legal questions. I became a Sexual Assault Response Team Officer to help survivors through the maze of community services available to them."
Communications Officer Cannady
My name is Communications Officer Sean B. Cannady and although I am a newcomer to SART, I am a 10 year veteran of the Georgetown University Police Department, spending the last 8 a Communications Officer on the evening shift. I have been married to my wife, Nicole, for 21 years, after meeting in college in 1993. We have 2 children…son Rashan, 17 years of age and a high school senior, and daughter Kaiyah, 13 years of age and in the 8th grade. I am also an accomplished percussionist/pianist, performing many genres of music. I not only majored in Music Education/Gospel Studies, but from 1995-1999 I served as Asst. Band Director for Calvin Coolidge Sr. High School in Washington, D.C., my Alma Mater. In my spare time, I enjoy spending time with my family, cooking, watching sports, listening to music, and performing for various churches and music groups throughout the Washington, D.C. area.
I joined SART because I believe that all survivors deserve to have an advocate for them, while reminding everyone that it's not their fault, nor is it okay for anyone to feel violated. Their lives also matter, and the more that we continue to drive that message home, the hope is that more and more survivors will have the courage to come forward so that we can provide comfort and a safe haven, while addressing the problem(s) and subsequently assist with the healing process with empathy, compassion, and understanding.
Officer Hurtado
My name is Officer Yahaira Hurtado and I have been with Georgetown University Police Department since January 2016. I currently work the midnight shift. I joined the sexual response team because I want to help, provide resources and positively shift a survivor's life. Overall, I love working in Washington D.C.
Officer Meadows
My name is Officer Meadows and I have been with GUPD since April 2016, working the evening shift. I have been a member of SART since joining GUPD. Prior to joining GUPD, I worked for the Metropolitan Police Department and was assigned to the Sixth District. I have a bachelor's degree in Political Science and Law & Society from American University.
Officer Richards
Officer Alisha Richards began her career in campus law enforcement in 2012. She received her Bachelors of Science degree in Criminal Justice in 2014. During her career, she has received specialized training in crisis intervention and sexual assault response. She began working for Georgetown University Police Department in 2015 and shortly after joined the sexual assault response team.
Officer Newman
My name is Officer Newman and I have been a member of the Georgetown University Police Department for three years. I currently work the midnight shift. I have been in the Law Enforcement/ Security field for over six years and have an Associate's Degree in Criminal Justice. I joined the Sexual Assault Response Team (SART) shortly after I arrived here at Georgetown and feel that this team really strives to give a voice to survivors of sexual assault and those close to them. Together, we can work to assist those affected by sexual assault and change the negative outlook on reporting them. Hobbies: Poetry, playing piano, EATING!
Sexual Assault Resources
On-Campus resources
Counseling and Psychiatric Services (CAPS)
Georgetown University Sexual Assualt Information and Resources
District of Columbia Sexual Assault Information and Resources
Network for Victim Recovery of DC (NVRDC)