GUPD Sexual Assault Response Team
What is the Sexual Assault Response Team (SART)?
The Sexual Assault Response Team (SART) is a team of specially trained Police Officers within the Georgetown University Police Department (GUPD). These officers work together with the common goal of providing a community coordinated response to reports of sexual assault. Working in coordination with University partners, SART strives to respond to survivors with professionalism, compassion, and empathy, while providing both on-campus and off-campus resources and ensuring that each survivor gains a solid understanding of all options moving forward and is fully supported throughout their process.
Contact A SART Officer
Email: SART@georgetown.edu. Please note that email is not monitored in real time, if this is an emergency please call the Georgetown University Police number listed below.
Phone: 202-687-4343. When calling, ask to be connected to the SART Coordinator, Officer Melaccio.
Essential Services that a SART Officer Can Assist With
No-Contact Orders – banning contact between two members of Georgetown University
Barring Notices – banning an individual from Georgetown University, when appropriate
Guidance on how to obtain Protection Orders; GUPD may not issue protection orders as they are issued by a judge via the Domestic Violence Intake Centers. Survivors who wish to seek a protective order should consider taking steps to preserve evidence, as it may be necessary to establish the proof of criminal domestic violence, dating violence, sexual assault, or stalking.
Sexual Assault Resources
On-Campus resources
Counseling and Psychiatric Services (CAPS)
Georgetown University Sexual Assualt Information and Resources
District of Columbia Sexual Assault Information and Resources
Network for Victim Recovery of DC (NVRDC)
National Sexual Assault Information and Resources
Who We Are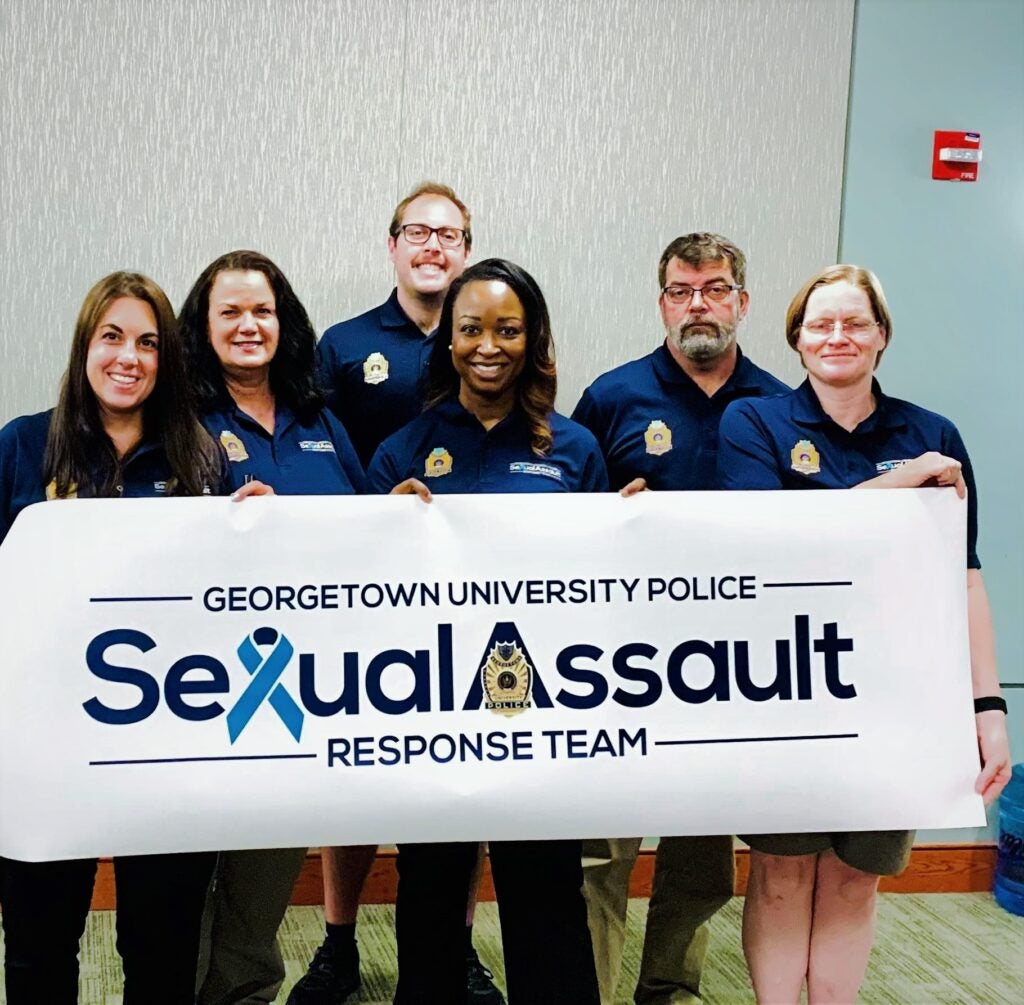 ---
Officer Melaccio
Hello, my name is Officer Kristen Melaccio, I joined the Georgetown University Police Department in December 2019 and am currently the SART Coordinator for GUPD. I have a Bachelor's Degree in Psychology from VCU and a Master's Degree in Forensic Psychology from Marymount University. In addition to working for GUPD, I am a Virginia State Accredited Victim Advocate in both Loudoun County and Alexandria City and am a member of the National Organization for Victim Assistance and a Certified Forensic Experiential Trauma Interviewer.
I joined SART in order to empower, support, and provide resources to survivors of sexual assault. It is my hope that survivors will feel heard, safe, and in control while navigating throughout their process.
Sergeant Pearson
My name is Joyce Pearson, I am the Community Engagement Sergeant for the Georgetown University Police Department (GUPD) and a member of the GUPD Sexual Assault Response Team (SART). I'm a Florida native, with 15 years of Law Enforcement experience and a Criminal Justice Degree. I joined The Georgetown Police Department February, 2020. My team is responsible for responding to all sexual misconduct incidents that are reported to GUPD.
After fifteen years in law enforcement, I have come to learn that my passion is deeply rooted in a desire to help. I was shocked when I read the article about the black survivors at Georgetown, and in that moment, I was reminded how important representation is. Helping people is the number one reason I became a law enforcement officer. This is who I am. It is not about press releases or political gain. I am here doing my part to help one student, one officer, one survivor and one community at a time.
Changing the status quo on how crimes are reported and responded to is necessary and it will take all of us listening, working, and leading together. My appointment here could not have come at a better time. I am here to serve those who are in need of support, guidance, and most importantly, justice. Our community deserves a commitment to safety, and the Sexual Assault Response Team strives to deliver on that commitment.
Officer Clark
Hi, my name is Officer Janelle Clark. I have been with the Georgetown University Police Department for 3 years. I became a member of SART almost immediately upon starting with the department and am very passionate about the work that we do. I work a varied schedule, but am here primarily during the day and evening hours. I am originally from Pennsylvania and moved to DC to attend American University, where I obtained my MS in Justice, Law, and Society.
Communications Officer Cannady
My name is Communications Officer Sean B. Cannady and although I am a newcomer to SART, I am a 10 year veteran of the Georgetown University Police Department, spending the last 8 a Communications Officer on the evening shift. I have been married to my wife, Nicole, for 21 years, after meeting in college in 1993. We have 2 children…son Rashan, 17 years of age and a high school senior, and daughter Kaiyah, 13 years of age and in the 8th grade. I am also an accomplished percussionist/pianist, performing many genres of music. I not only majored in Music Education/Gospel Studies, but from 1995-1999 I served as Asst. Band Director for Calvin Coolidge Sr. High School in Washington, D.C., my Alma Mater. In my spare time, I enjoy spending time with my family, cooking, watching sports, listening to music, and performing for various churches and music groups throughout the Washington, D.C. area.
I joined SART because I believe that all survivors deserve to have an advocate for them, while reminding everyone that it's not their fault, nor is it okay for anyone to feel violated. Their lives also matter, and the more that we continue to drive that message home, the hope is that more and more survivors will have the courage to come forward so that we can provide comfort and a safe haven, while addressing the problem(s) and subsequently assist with the healing process with empathy, compassion, and understanding.
Master Patrol Officer Bagileo
My name is Master Patrol Officer (MPO) A. Bagileo. I have been with Georgetown University Police Department for 2.5 years. I live in Maryland and have an Associate Degree in Criminal Justice and a Bachelor degree in Sociology. I am also a part of the GUPD bike patrol team and CIT (Crisis Intervention Team).
Officer Belen
Hi all, I'm Keith. I've been an officer with the Georgetown University Police Department since 2019. Prior to that, I graduated from Marymount Manhattan College in 2009 and spent the next seven years as an educator until 2016, when I enlisted in the United States Marine Corps.
In addition to being an officer, I am also a full-time student at the School of Continuing Studies. I graduated in May 2021 with a Master's degree in Cybersecurity Risk Management and am currently enrolled in the school's Applied Intelligence program. What drew me to the Georgetown community was the strong commitment to its ideals of Cura Personalis, justice in all of its forms, and doing one's part to make the world a better place. Nothing makes me prouder than to say that I am a part of this community and work every day to ensure that Georgetown's reputation among its peers is well-deserved. It is my honor and privilege to serve that capacity as a member of its SART team.
Officer Gette
Hi, my name is Officer Arthur Gette. I have worked at Georgetown University Police department now for over 4 years. I am originally from the upper Midwest and moved to the DC area about 9 years ago when my wife got a job with the federal government. I have a bachelor's degree in Anthropology and have done many things in my illustrious life; archaeologist, machinist, delivery and repair of medical equipment, and law enforcement.
I find law enforcement to be gratifying, when I can be of service, to help those who may find no others to help them. My reason for being on the SART Team is to give a voice to those that are underrepresented and often misrepresented. I also hope to be a guide and to offer information that may be needed in the days to follow.
Master Patrol Officer Prieto
Hi, I am Sheila, I am a Wife, Mother of 5 and a Grandmother of 1. I was born in Scotland and came to the States in 1987 as a Nanny.
My background is customer service management, being a police officer was something I always wanted to be and in a way very similar. Just one word can escalate or de-escalate any situation.
I joined the SART team because I like to think I am easy to talk to and I wanted to be available to those that needed someone to feel comfortable with.
Officer Salmeron
Hello, my name is Eva. I am bi-lingual ( Spanish fluently and some Japanese) and am a 1st generation college student at Marymount University.
I have been with Georgetown University since 2019 and began as a Dispatcher at GUPD. Prior to GUPD, I worked for Loudoun County Mental Health Department and Loudoun Abused Womens Shelter for three years. I have experience working as an advocate and am passionate in encouraging survivors to find their own voice again. Empowering student survivors is one of many reasons why I joined SART. It is an honor to assist in providing a safe community by giving survivors a way to feel safe, strong, and in control.
Officer Shea
Hi, I'm Jimmy. I was a kids karate teacher from 2004-2014 in San Jose CA. I enlisted in the Marine Corps in 2014, and am affiliated with GUSVA. I am a parishioner at St. Peter's Catholic Church on Capitol Hill. I am a student at the Georgetown University School of Continuing Studies in the Bachelors of Arts in Liberal Studies Program, inducted into Alpha Sigma Lambda 2021. I am a prospective graduate student, doing my best to become a double Hoya. I got married in May of 2019 (Yes, May the 4th be with you was our theme). My hobbies include cycling, camping, canoeing, going to the range, BBQing, hiking, running, ocean swimming, lifting, and wine tours with my wife, pretty much anything outside.
I try to live the Spirit of Georgetown. The Department of Public Safety allows me to take profound care of and be responsible for others, grounded in individualized attention to the needs of the other, attentive to their unique circumstances and concerns. It is with a mind toward a Faith that does Justice, I offer my assistance to the SART Team
A Guide to the On and Off-Campus Resources