Saferides and Shuttles
SafeRides Program
The SafeRides program provides a safe alternative to walking alone at night for Georgetown University students, faculty and staff. SafeRides are driven by Georgetown Security Offices and Student Guards, and will transport you to and from any on-campus or off- campus neighborhood location. Service hours are:
8 p.m. – 2 a.m. (Sunday – Wednesday)
8 p.m. – 3 a.m. (Thursday – Saturday)
If you have mobility limitations due to a temporary injury these transportation services may or may not be effective for you. During peak usage times, 10 pm to 2 am on Mondays, Tuesdays and Wednesdays, you may experience a longer wait time. Open food and beverages are prohibited from being inside the SafeRide vehicles.
SafeRides COVID-19 Information
Only two passengers will be allowed at time in a SafeRide vehicle.
Specific seats will be marked for use.
All passengers must wear a face covering that covers both the mouth and nose while riding in the vehicle.
SafeRide vans are sanitized after every shift with a sanitizing fogger to assure that they are safe for the following evening.
Please expect delays during peak times such as the weekend.
Vans will not stop for those who attempt to flag the van. You must call to request a pickup.
SafeRides Service Area: SafeRides provides transportation to and from campus and adjacent neighborhoods within defined boundaries. The boundaries for SafeRides service can be viewed here: SafeRides Boundaries.
Individual Escorts
When SafeRides is not in service, you may use the LiveSafe app or call 202-784-RIDE to request an individual escort from GUPD.  The method of escort (police walking escort or via police vehicle) will be determined by GUPD, based on the available resources at the time of your call. We encourage you to request an individual escort outside of SafeRides operating hours if you feeling unsafe walking alone. 
EMERGENCIES
For any emergency needing a police response call 202-687-4343 or use the LiveSafe app.
For emergencies off-campus call 911.
NEIGHBORHOOD SHUTTLES
Four shuttles operate during the academic year to and from campus in continuous loops. Details can be seen on the maps below.
Hours of service are from 10 p.m. – 3 a.m. (Thursday – Saturday)
Burleith Loop Shuttle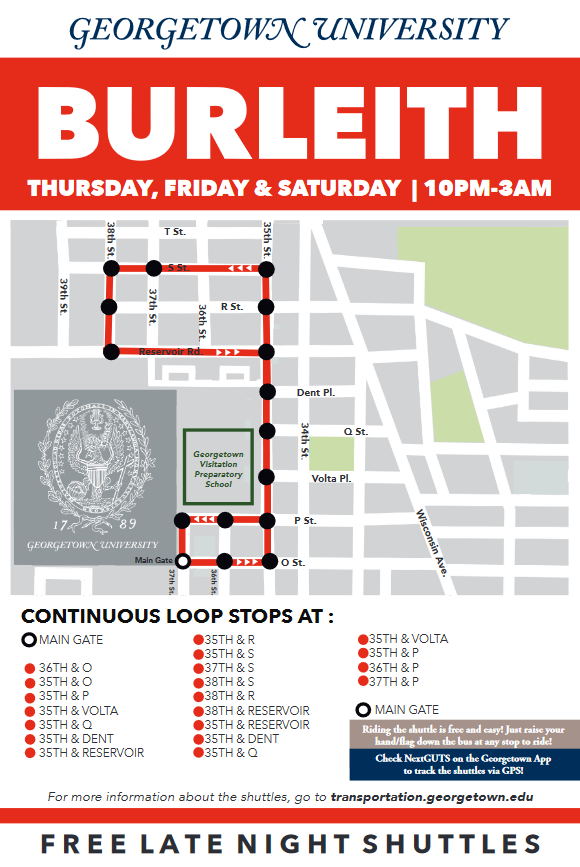 Late Night Shuttles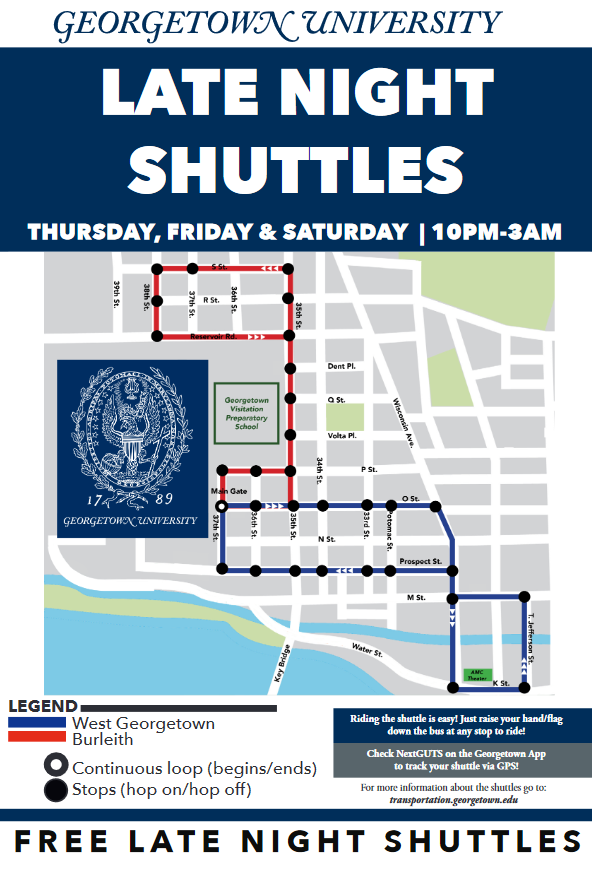 Georgetown Shuttle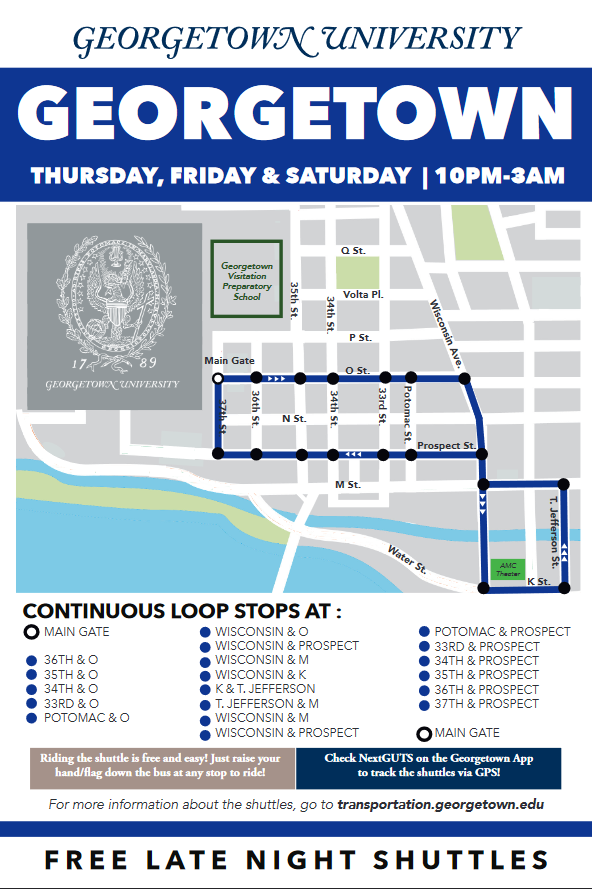 SafeRides FAQ
| Question | Answer |
| --- | --- |
| How do I request a SafeRide service? | Download the LiveSafe App or call 202-784-RIDE |
| Can I wave down a SafeRide van for a ride? | No. You must have called in for a pick-up at a specific location. |
| Can I bring my coffee, soda, or pizza into a SafeRide van? | No. |
| When can I request a SafeRide? | SafeRides service begins every evening at 8 pm. The service is available until 2 am Sunday through Wednesday, and until 3 am Thursday through Saturday. |
| How long will the SafeRide van wait for me? | The van will wait for a minute or so. If they are not contacted by you then they will continue on to their next pick-up location. |
| If I have a complaint about the SafeRide service where do I go? | Please use this link to redirect to the GUPD Feedback Form. |